Reddi Irrigation offers sprinkler system winterization (shutdown) in the Wichita and Kansas area. Typically you should schedule sprinkler winterization in the fall before the cold weather arrives.
In Wichita, sprinkler systems using city water should be winterized in October or early November, and systems that use well water can often wait until mid-November. Freezing temperatures can damage your irrigation system, so don't wait until temperatures are below freezing.
Reddi's winterization service include:
Shutting off water to the sprinkler system
Clearing water from the backflow preventer and all zones/lines
Shutting down controller
Schedule now:
Backflow Winterization
Freezing temperatures and wind chills can cause damage to your backflow preventer. If your system uses water from the City of Wichita (including surrounding communities), you likely have a backflow preventer. These devices are required by the city to prevent water contamination in the city water system. It is better to winterize your sprinkler system early, before the first freeze, if you have one of these devices.
Monitor the weather closely starting in October, and schedule your appointment early to beat the rush when the cold weather arrives. Ask about our annual preventative maintenance programs that include winterization, spring startup, backflow certification and seasonal adjustments.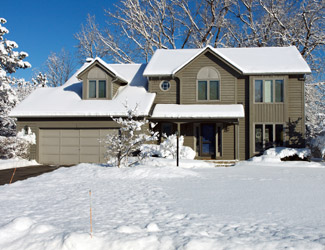 Why Should You Winterize Your Sprinkler System?
Most irrigation services suggest sprinkler winterization because freezing temperatures can damage the system. Without winterization, water remains in the lines all winter. When this water freezes it will expand, which can cause the pipes to burst or crack. Because the pipes are underground, you may not notice this leak for some time.
In some cases, cracked lines can cause expensive water leaks that go on for months or years. This can lead to erosion, and even problems with your homes foundation if not addressed.
Similar cracks can occur in the sprinkler heads also. Ice can cause the head to break and pop off, or it can create cracks that you may not notice right away.
If you live in Kansas, or a climate that freezes regularly, you should winterize every year.