Installation services is just the beginning of the services you will receive from Reddi Sprinklers & Irrigation Systems. The company also offers repair and maintenance services that help keep your newly installed sprinkler system operating in peak condition. The technicians and professionals hired by the company are backflow certified. This certification indicates that the technicians possess the important knowledge necessary to prevent backflow in your water supply that could result in contamination. Reddi ensures that its technicians meet the standards of a rigorous course of study that leads to certification in backflow prevention. This means that the person working on the installation of your sprinkler system is knowledgeable, professional and certified.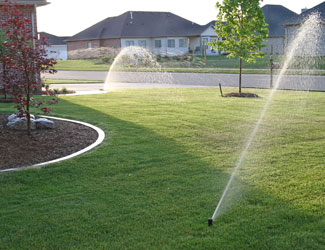 Wichita sprinkler system repair by Reddi Sprinklers & Irrigation gives you peace of mind. Reddi has a team of sprinkler experts, familiar with all major brands (Like Nelson, Rain Bird, Hunter and Toro), and we provide repair even if we didn't install your irrigation system. We can identify and fix common sprinkler system issues like leaking, broken sprinkler heads, low pressure issues, as well as fine-tuning and proper sprinkler system scheduling and watering timing. Reddi Sprinklers offers repair for homes and businesses, with estimates provided to you before work begins.
Call (316) 858-0780 to schedule a repair today.