Another of the services that Reddi Sprinklers Wichita provides to ensure that your automated system is in working order year-round is a Spring startup. During this service, Reddi Sprinklers technicians test your system's components and function to ensure that it is working properly and ready to handle the rigors of the watering season. Any issues or potential service disruptions uncovered during this process are immediately remedied in order to ensure the proper operation of your automated sprinkler system for your home or business. Any adjustments or additional maintenance or repair needed can be done with a mid-Summer check-up, which is also performed by the company's qualified team of technicians.
Let's Turn On Those Sprinklers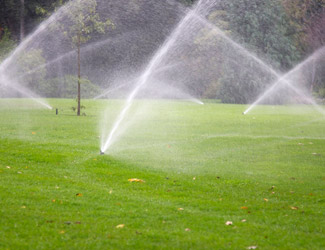 In the spring, typically March or April, is the time in Kansas to start-up your Sprinkler System. Reddi can start-up sprinklers at residential homes or commercial businesses. More specifically, our sprinkler start-up includes turning water back on to the system (well or city water), testing backflow preventer, testing water flow and testing and adjusting water coverage on your lawn. Reddi Sprinkler will also check for water leaks and program your sprinkler's timer. We offer a preferred customer program for customers that choose to utilize our services for spring start-ups and fall winterization, which can secure yearly discounted pricing, and allows you to receive discounts from other Reddi divisions as well. Serving the Wichita and south central Kansas area, Call Reddi Sprinklers & Irrigation at (316) 858-0780 for spring start-ups and maintenance.