Reddi Sprinklers & Irrigation specializes in residential home and commercial business sprinkler system installation and rebuilds in Wichita and the surrounding area. When looking to have your home or business sprinkler system installed, start taking advantage of the benefits that an automated sprinkler offers. Reddi boasts highly experienced professional technicians and staff. This experience means that Reddi can provide you with the right sprinkler solution to make your life easier and keep your lawn looking its best.
Get a free estimate:
The company specializes in providing solutions for both residential and commercial lawns and landscapes and provides a host of services in order to meet your sprinkler needs. The company provides an estimate before undertaking any job so that you know the costs upfront. You can also benefit from the company's 24/7 service with no overtime charges for your contracted work.
Our licensed technicians provide the highest quality work and most trouble free sprinkler systems in the area. If you already have a sprinkler system that starting to show some age, you may be experiencing a drop in efficiency in your water usage. Maybe you're seeing lower water pressure in your system or have sections of your yard that aren't getting watered very well.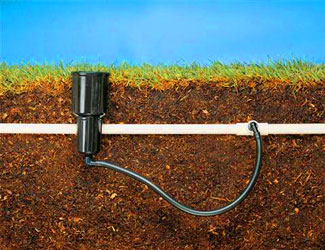 Let Reddi Irrigation get your sprinkler system rebuilt using durable equipment from Rain Bird, Hunter, Nelson, and Toro. Reddi Irrigation will also check your lines for leaks and broken lines. Wasted water is wasted money! Call (316) 858-0780 to schedule an installation or sprinkler system rebuild today.
Weather Stations for Sprinkler Systems
Sprinkler systems equipped with rain sensors and weather stations will keep your water usage to a minimum. These control stations monitor current weather conditions and control whether the irrigation system runs or not. Your sprinkler system doesn't need to run while it's raining! Giving your automatic sprinkler system added intelligence helps the environment and your budget.